Urine Drug Testing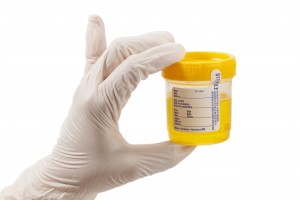 MedScreens tests urine by two basic methods, Instant tests and Laboratory based tests.  Instant testing produces results within 5-10 minutes, and is approximately 98% accurate.  Laboratory tests produce results within 2-3 business days, and are 100% accurate.  While instant tests provide results much sooner, they have a very slight chance of producing a false positive result due to cross reactivity; therefore, we suggest that all positive results from instant testing should be sent to the laboratory for Gas chromatograph-mass spectrometry (GC-MS) confirmation.  GC-MS has been widely heralded as a "golden-standard" for forensic substance identification.  All positive laboratory tests are automatically confirmed by GC-MS analysis. While all drugs have different detectable times in the urine, most drugs are generally detected in the urine for about 1-5 days. Chronic use of Marijuana may be detected for up to 30 days after the last use.
Instant Urine Testing
We have many different options when it comes to instant urine drug screens.  Please call and speak with a representative to determine what type is best for you! We offer a wide array of instant urine drug screens ranging from 1 Panel (tests for one specific drug) all the way up to a 10 Panel Test (tests for 10 different drugs). All positive pre-employment and random urine drug screens must be sent for confirmation at a SAMSHA certified laboratory and review by a Medical Review Officer (MRO), pursuant to Sections 71-7-1, et. al., of the Mississippi Code of 1972.  (An additional fee may apply for the confirmation and review of a positive instant test). Negative Instant results are typically reported within 15-30 minutes of testing. If you are interested in receiving your results online, then you may be interested in our new eScreen testing.  You are in total control of your client's drug screen procedure and negative results will be posted online within 15 minutes.
Laboratory Urine Testing
Our laboratory is accredited by the Substance Abuse and Mental Health Administration (SAMSHA).  Which is the federal regulating authority and provides stringent guidelines to ensure that proper protocol and equipment are used during the testing procedure. This registry is updated monthly and you can view the SAMSHA accredited/certified Federal Register that is published by the US Government by clicking on the button below.
Laboratory Urine Tests will typically provide results within 2-3 business days. All positive results are automatically confirmed with GC/MS, the golden standard of substance identification.  A Medical Review Officer should review all results that are conducted for employment purposes.  The review process may require time and could possibly post-pone the release of a result that is under review.
There are two basic classifications of Laboratory Tests:
Department of Transportant (DOT) Drug Screen 

A test for employees that will be operating a truck or heavy machinery weighing over 26,000 lbs or operating in a safety sensitive position.
The DOT has specific requirements as to what type of test must be performed.  It is a 5 Panel drug screen that must be sent to the lab, and reviewed by an medical review officer.

Non-DOT or Forensic Drug Screen

Non-DOT urine drug screens have much more flexibility and can test a variety of drug combinations
Please call to speak with a representative to determine what test is best for your individual or company needs.